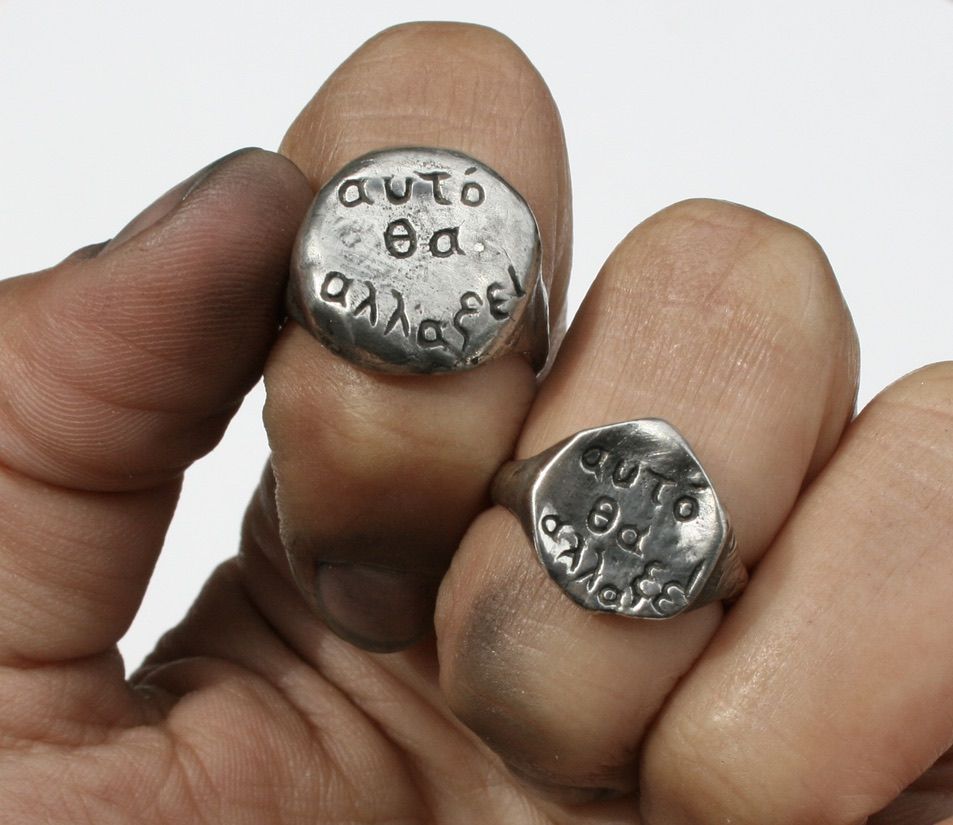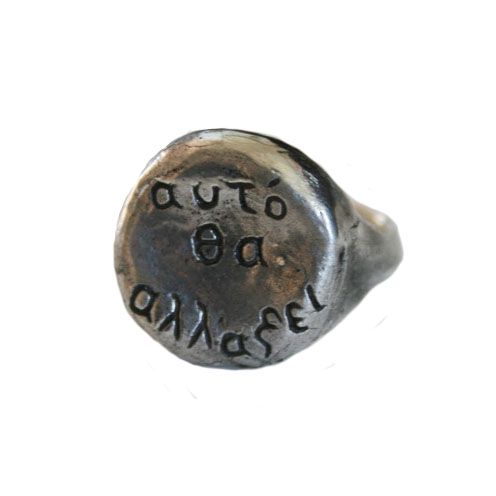 αυτό θα αλλάξει "This Will Change" Signet Ring
"αυτό θα αλλάξει" (offtoe- too-alexi) in greek translates to "this will change". When we worry it becomes so easy to become absorbed, swallowed by our anxieties, this simple talisman is a reminder that nothing is forever, that this pandemic, this global trauma that we are currently experiencing will also change, our relationship in a year will be different than it is now. Currently we miss our friends, we value our loved ones, we fear the unknown. WE have never experienced a global trauma, WE as a species have never fully experienced something so horribly intimate. War, hunger, all the other sufferings in the world normally happen to us individually, and now we experience this immediate change TOGETHER. 
The idea of inscribing the signet ring in a a different language extends to my roots. I am third generation Greek and the history of my family coming to America 100 years ago inspires me. I cant imagine how my great grandparents felt leaving everything they had and known to come to a place they believed to be full of promised opportunity. I wish more had changed in the past 100 years, that immigrants now didn't have as many loop holes to go through to travel from a place, to "Americanize" themselves to blend in and in turn lead to generations later of feeling lost, like a part of them was swept under the rug or forgotten. 
Two years ago I gave myself the opportunity to revisit the place of my ancestors, and it was indeed the best gift yet. In my diligence of learning the language of my past, the language that my immigrant family had to un-learn for opportunity I see many things come to fruition. One is certainly that learning something new is challenging. Given time and dedication this too will change, vocabulary, language, understanding all become more complex. 
I wanted to release this ring during COVID19 because I think we could all use a little reminder of our anxieties, and the change that is ahead. 20% of sales from this ring will go toward a community from my home town that I hold close to my heart, the Navajo Reservation, who at this time is very vulnerable and could use some help: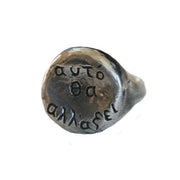 αυτό θα αλλάξει "This Will Change" Signet Ring